If you haven't started with e-invoicing yet, you should really look forward to it! Electronic invoices are easier to send and get paid faster. Here you will find everything you need to know about e-invoicing in 2023.
An increasing number of companies expect their suppliers to send electronic invoices. But what is it really?
In this guide, we will explain what e-invoicing is, introduce its benefits and explain how you can create e-invoices in a quick manner using a free online tool.
What is e-invoicing?
E-invoicing (also known as electronic invoicing) is the process of creating, sending and receiving invoices in an electronic format.
An electronic invoice is a type of invoice you can send from an invoicing program directly to the recipient's accounting software.
There are several benefits of using e-incoiving. The main benefits are improved efficiency and improved cash flow. When creating an electronic invoice, you do not have to spend time printing or mailing invoices, which saves you time and money related to manual work.

Furthermore, customers are more likely to pay on time when being sent invoices directly to their accounting software. In fact, 92 % of electronic invoices are paid instantly as compared to 45 % of paper invoices in the US market.
Send electronic invoices for free
Why use electronic invoicing?
We have already discussed some of the benefits of electronic invoicing for your business. But did you know that e-invoicing also can be a big time saver for your customers?
In fact, the majority of large businesses require e-invoices. Recently, a number of countries have also made e-invoicing mandatory for all enterprises.
Some of the most important reasons why companies require electronic invoices are the following:
Improved efficiency: Electronic invoices are easier to process and reduce the time spent on manual data entry.
Cost savings: Less manual work means less money spent on manual labour.
Enhanced security: E-invoicing can provide additional security measures, such as encryption and digital signatures, to protect sensitive financial information. These safeguards can help to ensure that the information is properly protected and still available for retrieval in the event of a breach.
Better data management: With all invoices received in the same digital format, tracking and managing financial data becomes easier. This helps the accounting department work more efficiently, giving them more time to create accurate financial forecasts and do other value-adding activities.
Increased flexibility: E-invoicing can allow businesses to easily exchange invoices with customers and suppliers in different locations, improving their ability to do business globally.
Compliance with regulations: In some cases, companies may be required to use e-invoicing in order to comply with government regulations or industry standards.
What should be included in an e-invoice?
An invoicing program, such as Conta, will always guide you in a way that all the required data is included in the invoices you create. It is, however, important to know the data you need in order to produce an einvoice.
According to the latest EU VAT directive, all electronic invoices must contain:
Sequential Invoice number
Invoice date
Date the goods or services were made or completed
The name and address of you and the recipient
The VAT number of you and the recipient
Quantity and type of product/service delivered
Currency
The unit price exclusive of VAT
Any discounts (if not included in the unit price)
The VAT rate applied
The VAT amount payable, unless exempt
If you are exempt from VAT, you have got to reference the applicable directive or any other reference indicating that the supply is exempt or subject to reverse charge.
For international deliveries, IBAN/SEPA number and BIC/SWIFT code have to be provided.
You can find more information at E-invoicing Basics in this blog post.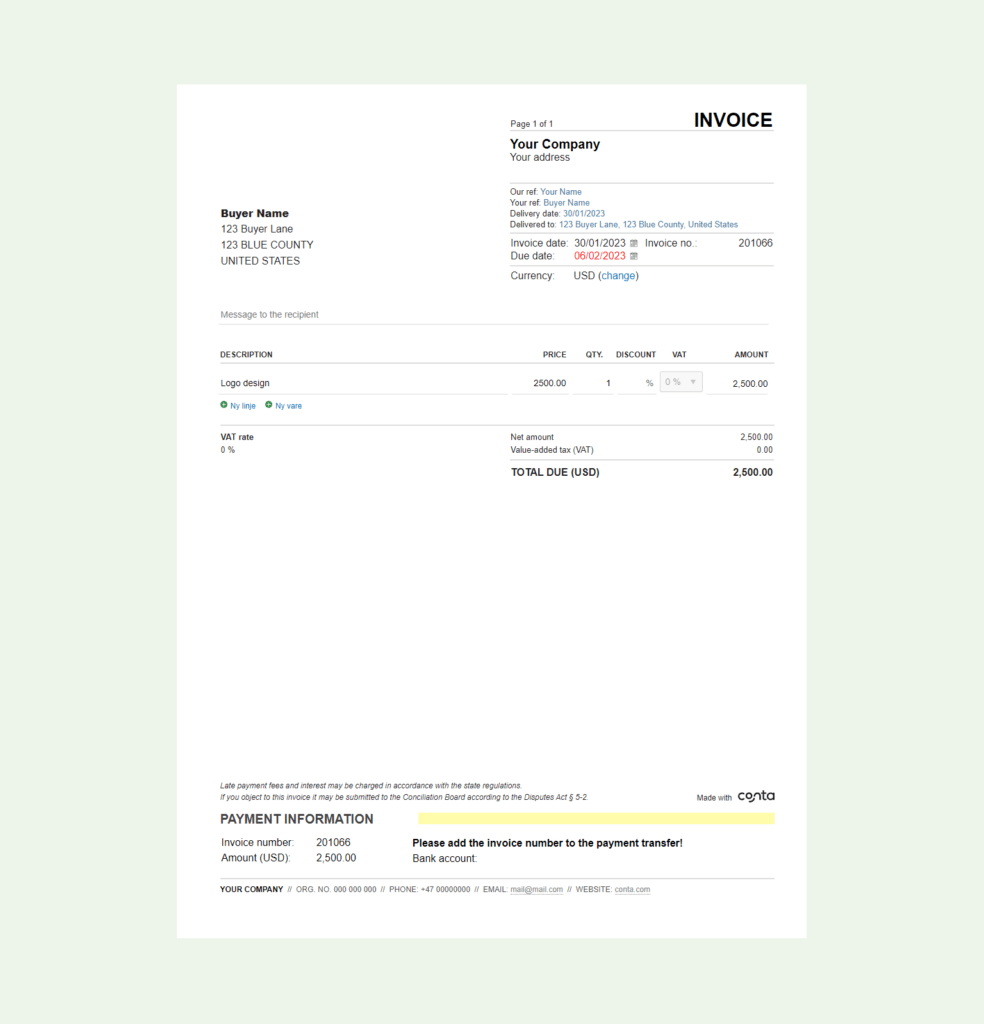 How do I make an e-invoice?
The best way to make an e-invoice is by using affordable invoicing software.
Conta is a popular choice among small and medium-sized businesses. In Conta, invoices and quotes are created in no-time. All invoices can be customised with your own logo and personal notes, for thank you messages, payment terms and so on.
You can also use Conta to automate your workflows. For instance, you can set up recurring invoices and automated payment follow-ups when customers fail to pay on time.
Conta supports the most common invoicing formats, such as PDF, email and eInvoice. If a customer has signed up for eInvoicing, it automatically sends the invoice as an eInvoice.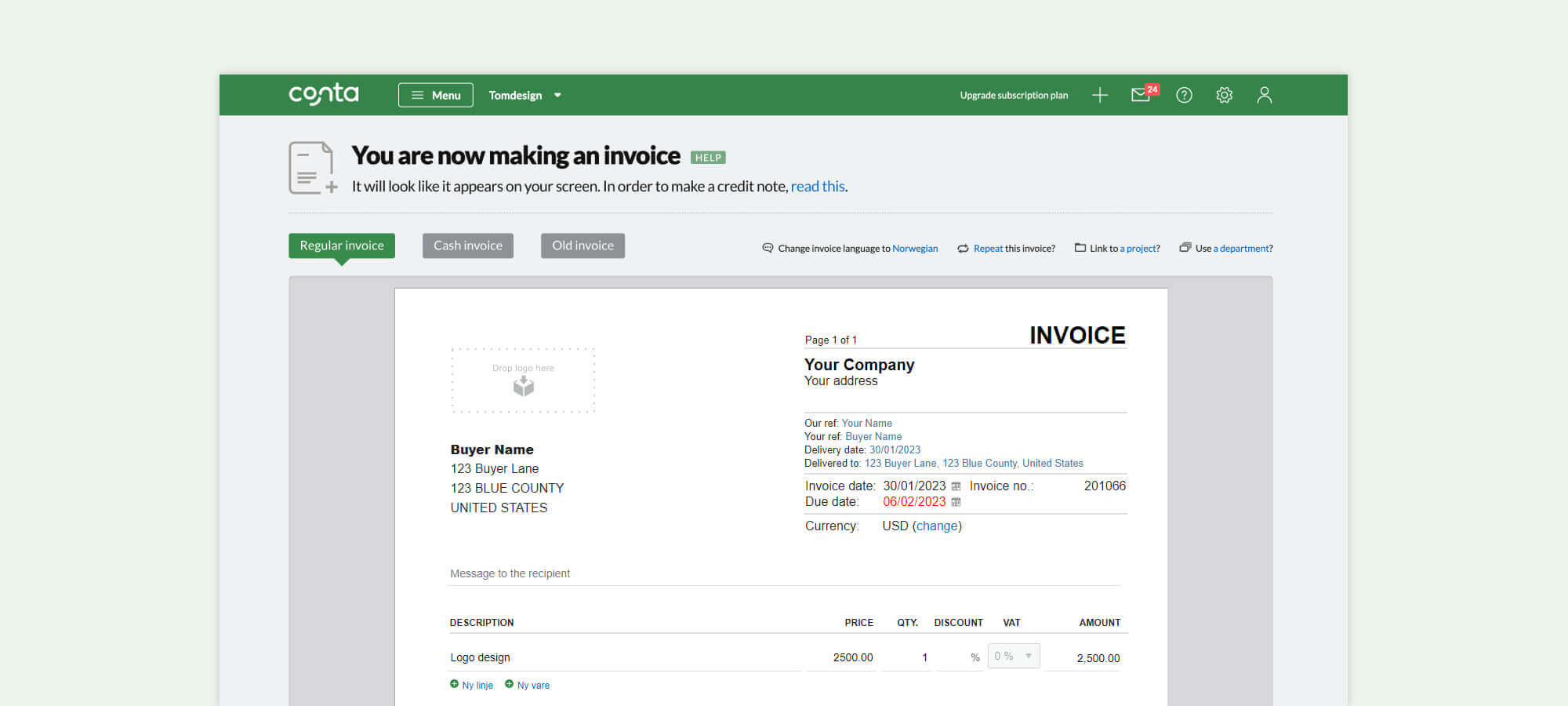 E-invoicing: Is it worth it?
The short answer is yes!
Electronic invoices are easier to create, send and receive. They receive timely payment more often, and thus, help you strengthen the overall financial performance of your business.
Get started with free invoicing