Looking for invoicing tips and templates as a contractor? Check out our comprehensive guide for 2023, including free templates to help you streamline your invoicing process and get paid faster.
Invoicing for contractors – why is it so important?
Invoicing is one of those things that can make or break a business. It might seem like just another boring task, but it is one of the most important things you do as a business owner.
There are several reasons why invoicing is vital when working as a contractor.
First, invoicing helps you keep track of your money. When you are issuing an invoice, you are giving your customer a bill for the work you have done for them which helps you keep track of how much money you are owed and when you can expect to get paid. Without such documentation, it can be hard to keep track of your finances and to make sure you get paid on time.
Invoicing is also important for tax and accounting purposes. When you are working as a contractor, you have got to keep track of all the transactions in your business and what you owe in taxes. This can be a bit of a headache, but invoicing can make it a lot easier. By keeping track of all your invoices (and expenses), you will be able to do your bookkeeping, and in turn, pay the right taxes.
Create and send invoices for free with Conta ➝
How to invoice as a contractor
When it comes to generating invoices, you have got a few different options. Here are some of the most popular ways to do it:
Manually: Download a contractor invoice template, edit it in a word processing program (such as Microsoft Word or Google Docs), print it out or send it as an email attachment. This can be a bit time-consuming, and there is some room for human error, but it is a simple way to get the job done.
Invoicing software: Our favourite pick! Sign up for a free online invoicing system (such as Conta), create the invoice in a few seconds and send it directly from the software via email. The main benefit of such software is that invoices are created faster because fields (such as date, invoice number and company information) are filled out automatically and all invoices are safely stored in the same place. They can even help you set up automatic reminders to follow up on late payments, which can help you save a lot of time.
Get your free invoicing software
Contractor invoice example
Struggling to create a professional-looking invoice for your business? Check out this sample construction invoice as a starting point: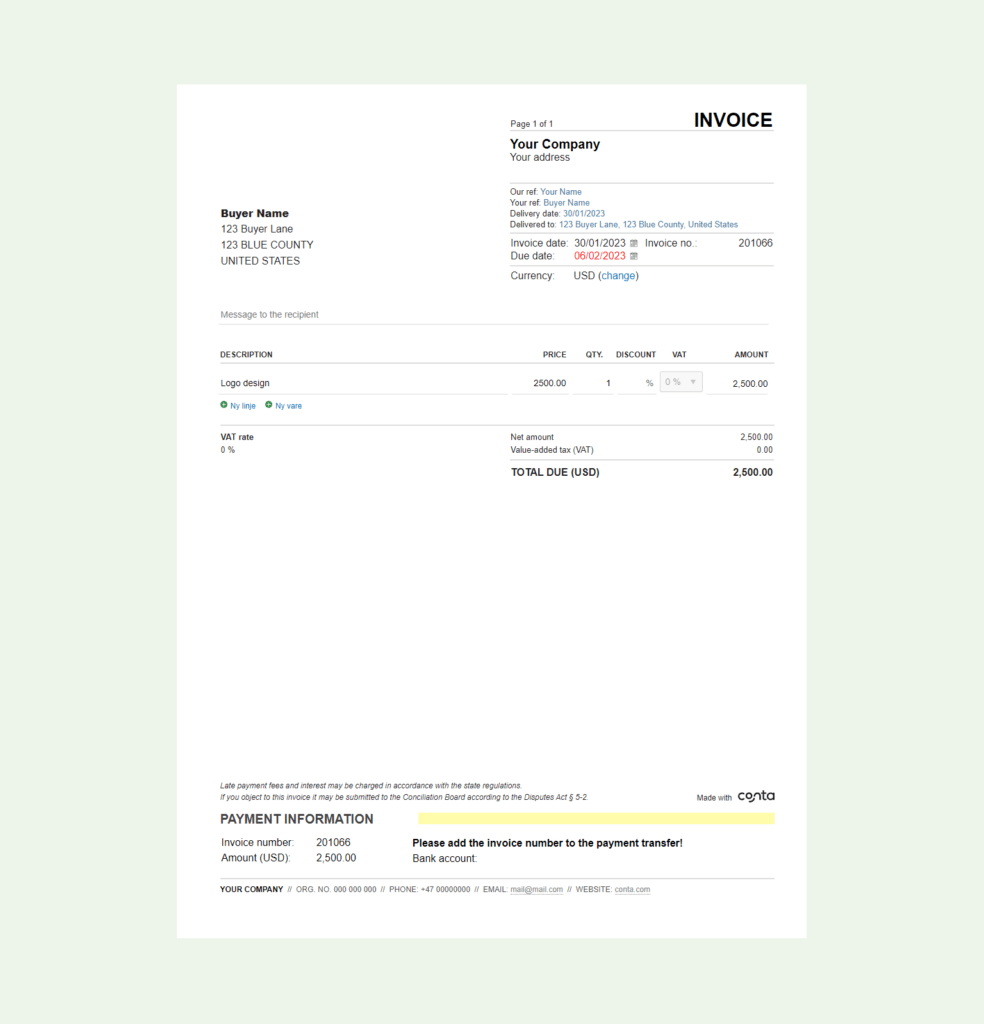 Five things you should include in a contractor invoice
As a contractor, there are a few key elements that you should include in your invoices to make sure they are valid and that you will get paid for all the work you have done.
Here is a list of what you should include in a contractor invoice:
1. Contact information
Make sure to include the name, business name, address phone number and email address of both you and the customer. This way, the customers know the invoice is meant for them, who it is sent from and how to get in touch with you in the case of questions.
2. A detailed description of the work done
Be clear about what work you have done and include details like hours worked, materials used and other relevant information. This way, you can help customers understand what they are paying for and avoid any misunderstandings.
3. Payment terms and conditions
Include information on when you expect the payment to be made and how you want the customer to pay you. Also make sure to include a statement stating that late payment fees will occur if payment is not made on time, to incentivise timely payments.
4. Invoice number and date
Include a unique invoice number, invoice date and date of delivery. This makes it easier for the cursomer to refer back to the invoice in case of questions and is also legally required in most countries for accounting and tax purposes.
5. Total amount due
Include the total cost of the goods and services rendered, along with taxes and fees (if applicable).
Invoicing tips that will help you get paid fast
Only 41.5 per cent of B2B invoices are paid on time. If you want to become one of the businesses that get timely payments, take the following measures:
First, be clear about when the payment is due and the consequences of paying late. You can do so by including a text like this in the payment terms section: "Payment is to be made within 14 days. Please note that a 1.5% monthly interest fee will be applied to any invoices that are received past their due date."
Next, make sure that invoices are sent immediately after a job has been completed. The faster you send out your invoice, the quicker you get paid.
It is also imperative that you send late payment reminders immediately as customers fail to pay on time. By doing this, you will show your customers that you have well-established invoicing routines, improving the likelihood of early payment the next time you send an invoice.
Contractor invoice software
In the spring of 2023, we launched the global version of Conta.
Conta is a free invoicing software for small and medium-sized enterprises. Our invoicing software is a great solution for contractors because it offers a great variety of features to streamline the invoicing process, saving time and reducing the risk of errors.
Notable features:
Create and send professional-looking invoices in seconds
Customise the invoice template with your logo
Craft estimates and convert them to invoices upon acceptance
Keep track of payments and send late payment reminders on autopilot
Create recurring invoices that are sent automatically from period to period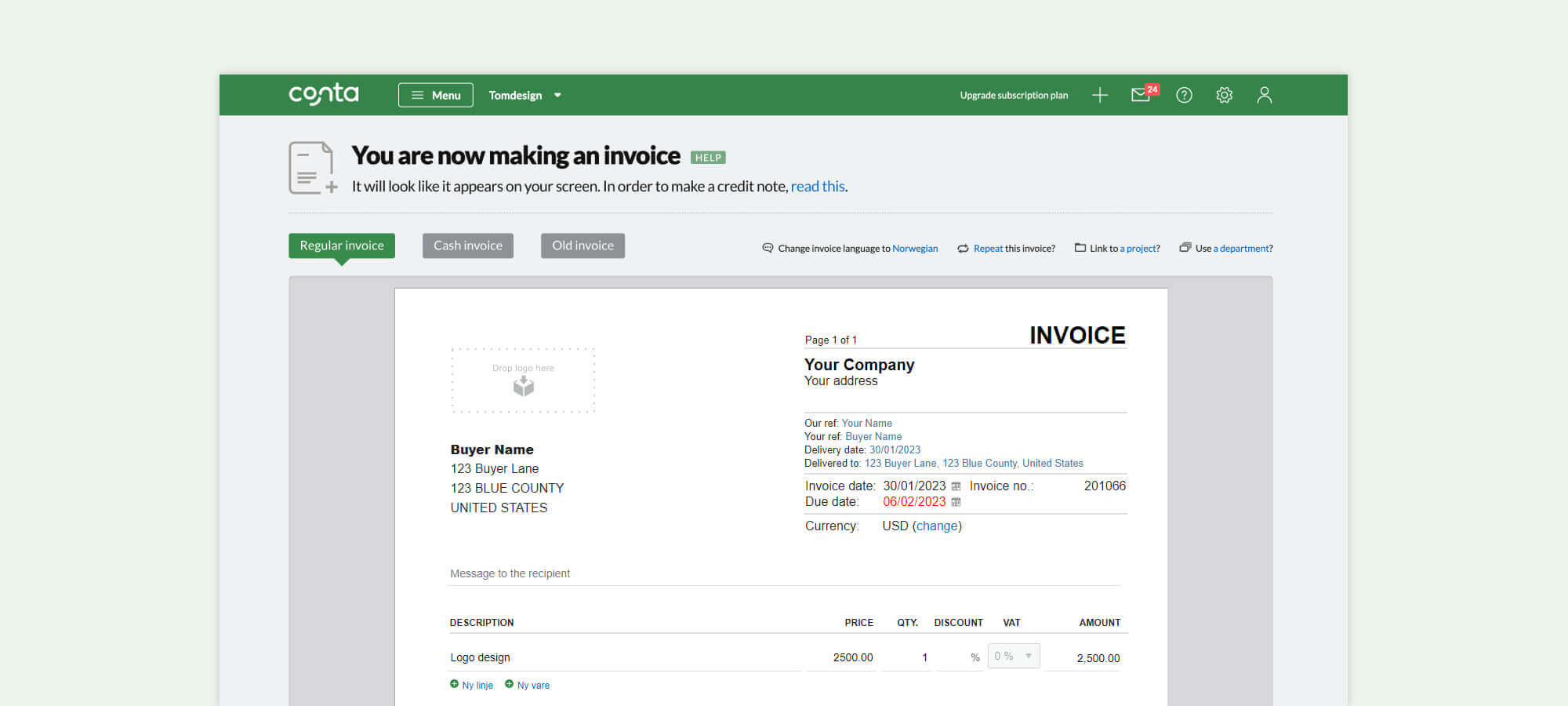 Get started with free invoicing
Contractor invoice template
If you have chosen to create contractor invoices using templates rather than free invoicing software, it can be helpful to know there are several free invoice templates online.
We have a variety of free invoice templates that can be downloaded and edited in Word, Excel, PDF and Google docs.
Get our free PDF invoice template
To use one of our templates, simply download it to your computer or mac, fill out the blank fields and send it to your customer via email.
Download a free invoice template