In search of some top alternatives to Quickbooks? Here are the best alternatives to Quickbooks in 2023.
Quickbooks Online is a popular accounting software for small and medium businesses. It offers a great variety of integrations and is preferred among many accountants.
Yet, it is not a one-size-fits-all solution. Regardless of whether you find it expensive or difficult to use, there are many good alternatives.
In this guide, we have created a list of popular accounting and invoicing software that works well as a substitute, each with its own unique features and use cases.
Best Quickbooks Alternatives
If you are short on time, you can rely on our reviews and sign up for a free trial with one of the following software:
Best for invoicing: Conta – it is free!
Best for unlimited users: Xero
Best for inventory management: Sage 50 cloud
Best for those seeking more cost-effective software: Zoho books
Sign up for Conta – it's free!
Conta: Free Quickbooks alternative
Conta is a free online invoicing software for small and medium businesses.
With Conta, you can create and send an unlimited number of free invoices. Conta also includes a variety of automation functionality, such as recurring invoices and automated payment follow-ups.
Pros:
Unlimited free invoicing
Robust reporting functionality
Recurring invoice & automated payment reminders
Cons:
Currently no accounting or payroll functionality
If you are looking for an easy-to-use invoicing system, Conta is a great choice. Conta has been the most popular invoicing solution in Norway for over a decade and launched its international platform in the spring of 2023.
Conta offers a simple and intuitive interface, which can be useful for freelancers and small business owners who do not have time to watch hours of webinars to get started with their new invoicing solution. Invoices are simply generated by typing directly into the invoice template and you always have the option to preview the invoice before sending it.
With Conta, you can either download the invoices as PDFs or send them directly from the software. All invoices can be customised with your own logo and customers are stored for your next round of invoicing.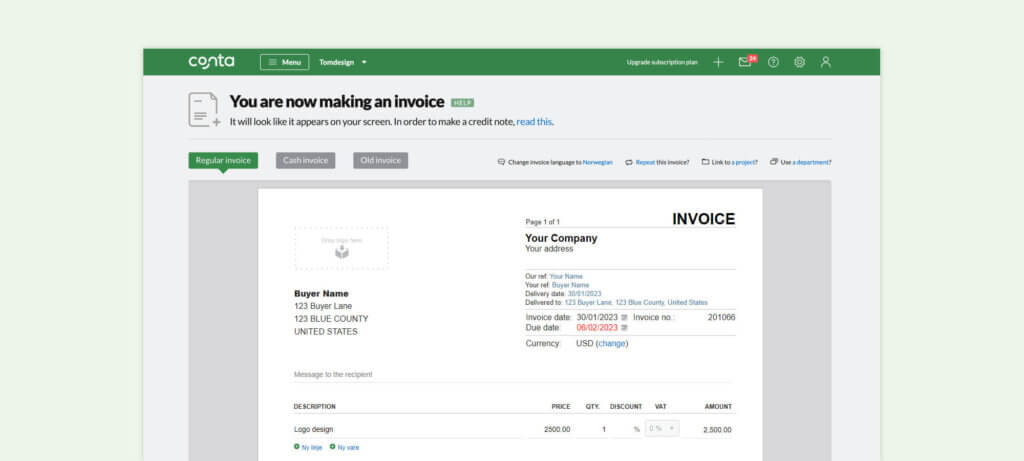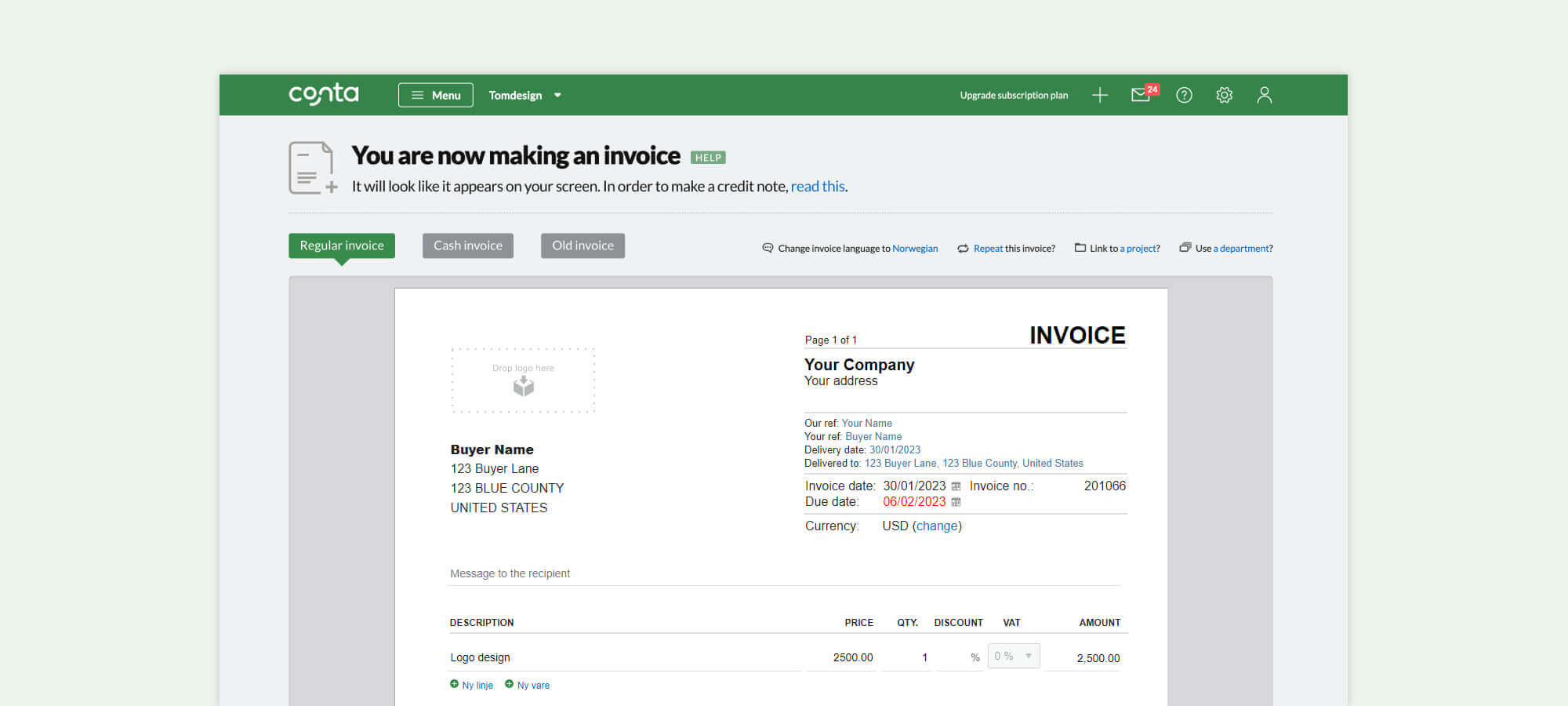 Ready to get started with free invoicing?
Sign up for Conta – it's free!
Xero
Much like Quickbooks, Xero is a popular accounting software used by over 3,5 million users in over 180 countries.
Although their smaller plans include fewer features than in Quickbooks, Xero's growth plan, which is similar to Quickbooks' Advanced plan, is 30 per cent cheaper and has no limitations on the number of users – compared to 5 users for Quickbooks.
Therefore, companies with many employees might benefit from choosing Xero as opposed to Quickbooks.
Pros:
Unlimited users across all plans
A big library with over 1.000 integrations
Cons:
Limited functionality in the cheaper plans
In the US, Xero has three plans for different needs:
Early: $ 13 per month, limited to 20 invoices and 5 expenses per month.
Growing: $ 37 per month, with unlimited transactions, bulk reconciliation of transactions, and short-term cash flow and business snapshot.
Established: $ 70 per month, including all the features that Xero can offer, including multi-currency support, project profitability reports and the Xero expenses app.
RECOMMENDED READ: Xero vs Quickbooks: Which is the better? (2023)
Sage 50 Cloud
Although it is not as visually appealing as Quickbooks, Sage 50 Cloud is a powerful alternative that in particular, larger businesses with inventory should consider.
Sage is an advanced, online accounting software, which comes at an affordable price. In fact, their smallest plan is comparable to Xero's most expensive plan in terms of functionality (minus project profitability reports) and is 30 per cent cheaper than Xero Established.
If you pick one of their more expensive plans, you can manage the books of multiple companies at a fixed price, making it a favourite among people managing the books of several companies.
Pros:
Instant access to premium features even in the cheapest package
No limitations on the number of invoices and other transactions
Advanced inventory management
Unlimited number of companies per user
Cons:
You are charged extra per user
Desktop software has to be downloaded and installed on your computer.
Not as easy to set up and use as Quickbooks
Sage 50 Cloud's three plans in which all plans include features you would expect from a simple accounting software:
Pro: $ 48 per month (charged annually) for small businesses with 1 user.
Premium: $ 77 per month (charged annually) for multiple businesses with extra features such as purchase and change orders, advanced budgeting tools, reporting by department and job costings by phase/cost level. Approximately $ 150/year extra per user.
Quantum: $ 128 per month (charged annually) for everything mentioned above, plus role-based user permissions and workflow management. Approximately $ 150/year extra per user.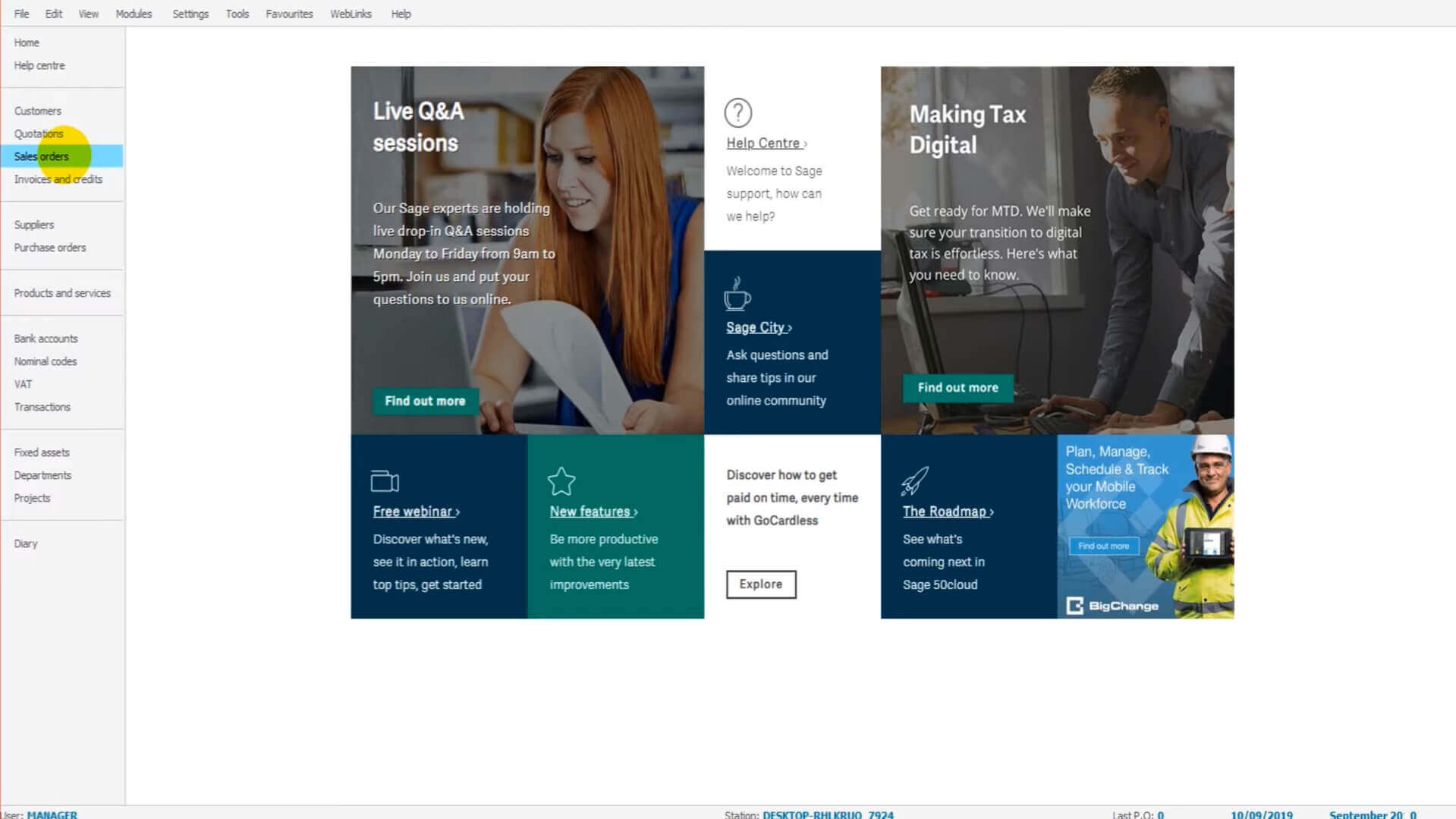 Zoho Books
Zoho is an affordable and scalable accounting solution for all types of businesses.
The software is cloud-based, meaning that you can access it from anywhere (on any device) as long as you have got an internet connection.
Unlike Xero and Quickbooks, Zoho includes multi-currency support, project accounting and expense reports in some of their cheapest packages. If you want retainer invoices, sales orders, stock tracking and timesheet, you will have to upgrade to Professional, starting at $ 40/month (which is significantly cheaper than for Quickbooks).
Zoho includes up to five users in their Professional plan, a limitation, however, is that it charges $2.5 per user/month above that threshold.
Pros:
Get access to premium features at a lower cost than in other systems
Craft invoices, track payables and record expenses directly from the mobile app
VAT-ready software keeping you VAT compliant
Cons:
Charges extra per user above certain thresholds
A limited number of integrations
No payroll service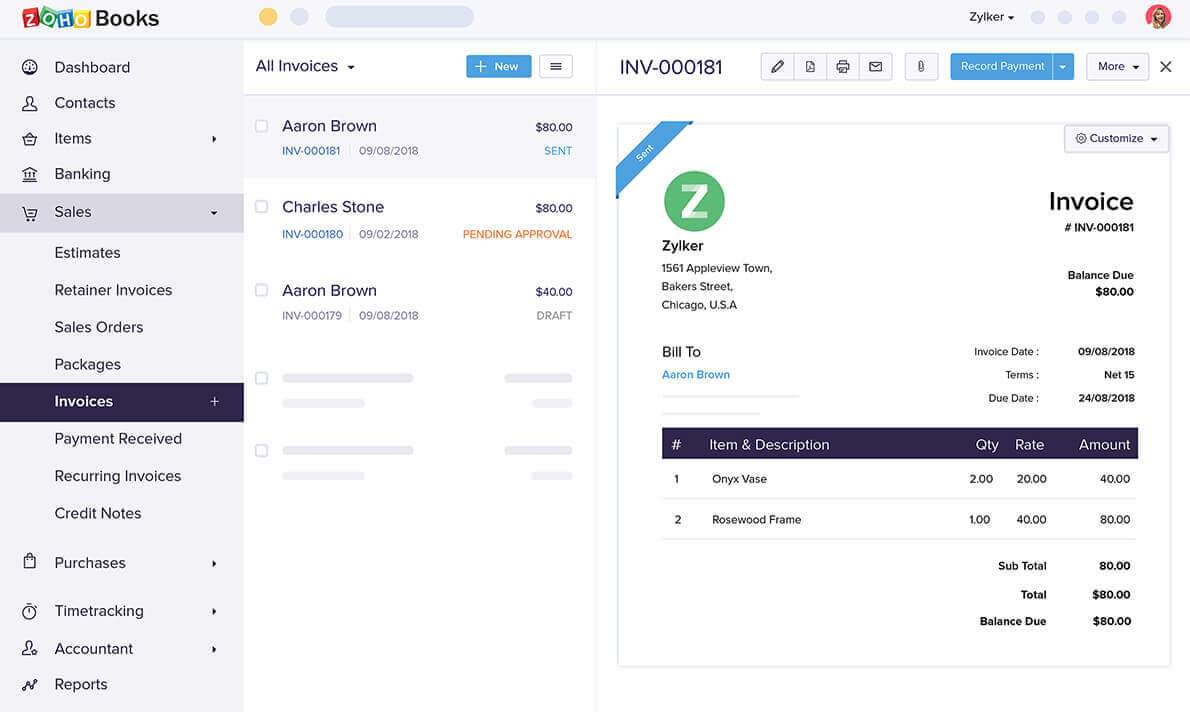 Conclusion: What is the best alternative to QuickBooks?
We have found that there are several alternatives to Quickbooks that offer similar features and lower prices. It is also discovered that some systems offer advanced industry-specific features that might lead one to choose it regardless of price.
If you are only interested in finding software that can help you send invoices and keep track of payments, you do not necessarily have to pay anything. Conta is a free invoice software in which you can craft and send an unlimited number of invoices for free.
If you are looking for a cheaper alternative to Conta with similar functionality, and do not work in a company with more than 10 employees, Zohos Books might be a good alternative.
It is recommended to compare the features and pricing of the services you are considering to choose to determine which one best fits your needs.