Looking for an invoice creator? In this guide, we will compare some of the most popular invoicing apps of 2023.
Invoicing is an essential part of running a successful business. Although it may time-consuming, invoice creation software can help you win back valuable time and get paid faster.
Choosing the right software is not necessarily an easy task. Even though the price is an important factor, you also have to consider whether the software meets your current and future needs.
In this guide, we will present some of the most used invoice creators and compare them with respect to functionality and pricing. We will also examine how satisfied customers are with each software to determine how easy it is to use.
Create free invoices now
What is an invoice creator?
An invoice creator is an online tool that allows you to create and send invoices.
Invoice creators come in all shapes and sizes: Some are free, with limited functionality, whilst others offer advanced features such as automated billing and the ability to track payment status.
Regardless of your needs, an invoice creator can be used to streamline the invoice processing process. They help you create professional-looking invoices in a short period of time and reduce the risk of human errors by automatically filling out fields (such as date, invoice number and customer information).
Best invoice apps for small businesses
1. Conta Invoicing: Free invoice creator
Platform: Desktop & Mobile | Pricing: Free
Conta is a basic yet efficient invoicing software for small and medium-sized businesses. With Conta you can compile beautiful invoices and set up automatic late payment reminders.
Conta is free to use and there are no hidden fees.
Top features:
Create and send unlimited invoices and quotes for free
Customise with your own logo
Set up repeating invoices (also known as recurring invoices)
Automate invoice payment reminders and get paid faster
Get paid in several currencies
Sign up – it's free!
2. Freshbooks
Platform: Desktop + mobile | Pricing: Starts at 2,9 % + $0,3 fee per paid invoice
Freshbooks is a powerful invoicing option that easily integrates with more than 100 apps.
Regardless of the size of your business, Freshbooks has a plan which suits your needs. It also has accounting functionality and a mobile app, allowing you to invoice clients and record expenses on the go.
Fresbooks start at $15/month, in which you are limited to only invoice 5 clients. The next plan, Plus, costs $30 per month.
Top features:
Create and send beautiful invoices with your own logo, colours and font
Track and invoice billable hours with time tracking
Work on the go with Freshboos' mobile app for iOS and Android
Get paid with credit cards and bank transfers
Set up recurring billing
This is what Freshbooks' invoice generator looks like: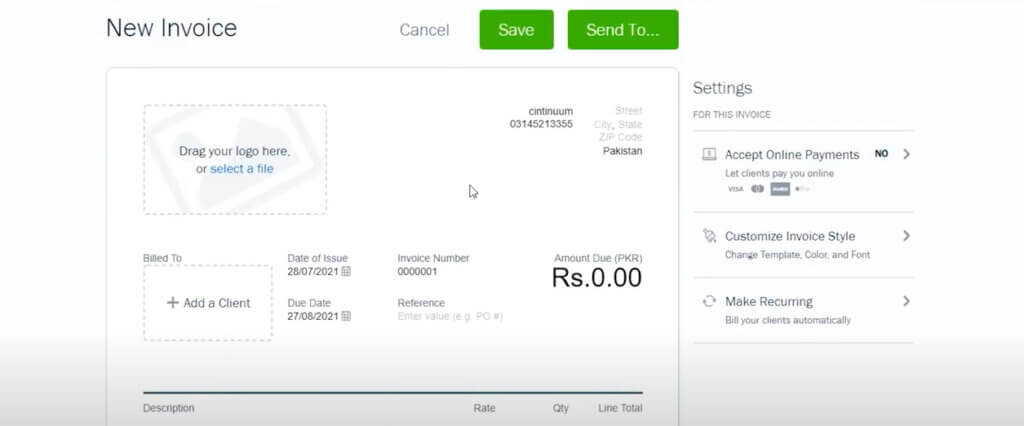 3. Square
Platform: Desktop + mobile | Pricing: $15/month (limited to 5 clients/month)
Square, mostly known for its point-of-sale solutions, lets users create invoices and track the payment status of invoices in real time. One-click payments make it easy for customers to pay online, and more than 75 % of Square invoices are paid within a day.
Note that Square's subscription model stands out. The app is free of charge, and you only have to pay per paid invoice. For companies sending a number of invoices per month, the program might be a bit pricy, but for smaller businesses, it might be a favourable solution.
Top features:
Create and send invoices that get paid fast with online payments
Track payments in a live fashion on your laptop, tablet or phone
Bill multiple customers at once with batch invoicing (only for plus-users)
4. Intuit QuickBooks Online
Platform: Desktop + mobile | Pricing: Starts at $17/month
Quickbooks is an easy-to-use accounting and invoicing platform that helps small and medium-sized businesses to keep track of their finances.
Quckbooks is easy to use, with a great array of helpful resources when you need it.
Top features:
Craft and send invoices and estimates on the go
Schedule recurring invoices
Integrate with over 750 popular apps
Get bills and expenses organised automatically
Allow customers to settle up instantly via debit and credit cards
5. Vyapar
Platform: Desktop + mobile | Pricing: Starts at $49.99 per year (desktop only)
Vyapar is an affordable accounting and billing desktop software for indian companies. This is a good option if you prefer desktop software to online services and run a business in South Asia.
Top features:
Choose between +10 invoice templates
Create invoices in a simple planner
Send invoices via email or print methods
Keep track of expenses
Create GST reports in minutes
How much does the best invoice creator cost?
Depending on your needs, an invoicing creator costs everything from $0 to $50 dollars/month.
For small businesses, free invoicing software is often sufficient. Conta is a free cloud-based invoicing software and a popular choice among small businesses. Here, you can easily create and send an unlimited number of invoices for free.
If you have complex needs (such as third-party integrations and online payments), paid alternatives such as Freshbooks and Quickbooks might be favourable.
Interested in free invoicing software?
Sign up with Conta – it's free!
Is invoice generator safe?
Invoice creators and other SaaS services are in general safe to use.
They usually take advantage of state-of-the art encryption and authentication technologies, providing a safe home for your data.
Note that no matter where your data is stored, there is always a risk of a data breach. Therefore, when choosing software for invoice creation, it is important to choose one that takes data security seriously.
How to choose the best invoicing software
Here are some tips that will help you choose the right invoicing generator for your business:
Beware of your needs: Write a list of your business needs and match it with services meeting your needs. Here are some things to consider: Is the software easy to use? Can invoices be sent in your preferred invoicing format? Does the solution offer the automation functionality that you will need in the future?
Consider your budget: When running a business, keeping costs low is vital to stay profitable. Therefore, you should consider the price of all the services you are planning to choose before you make a final decision. Testing a free invoicing software before considering paid alternatives can also help you save money.
Talk to friends and check reviews: Learn from other businesses' experiences with the invoice creators you are considering using by assessing online reviews at Trustpilot or other reliable review websites.