Photographer preparing for creating and sending an invoice? Then you have come to the right place! Our guide will introduce you to popular invoicing methods in the photography industry and offer tips for getting paid promptly.
Invoicing – why is it so important?
Although it can be tedious, invoicing is one of the most important things you do as a photographer.
Businesses are required to issue invoices for all their sales and failure to do so can result in fines. Invoicing is also important to keep accurate records, which in turn makes preparing your tax returns much easier.
Moreover, invoicing ensures that you get compensation for your work, which is kind of the point of running a business! Isn't it? 💪
So, if you are not sure whether you should issue invoices for work rendered, we strongly advise you to.
How do I make an invoice as a photographer?
There are three widely used invoicing methods in the photography industry:
Photography invoice templates: Some photographers use invoice templates in Google Docs or any other word processor to create invoices. With templates, you can tailor and customise invoices to your own needs. The main downside, however, is that the invoicing process becomes unnecessarily complicated: Invoices are not sent automatically and you will have to make several manual calculations.
Online invoice generator: A commonly used alternative to invoice templates are online invoice generators. The main advantage of using such tools is that invoices are created relatively fast and that they in some cases can be sent directly to your customer via email. A limitation, however, is that online invoice generators do not help you store invoices, send payment reminders or keep accurate records of your sales.
Invoicing software: The best option for most photographers is to use invoice software. One of the major benefits of invoice software is that you can generate invoices efficiently. Fields (such as date, invoice number, and company information) are automatically filled out for you, and the only thing you need to do is to choose the right customer and add the goods or services you want to charge your customer for. Most invoicing software also has smart automation functionality. In Conta, for instance, one can send multiple invoices simultaneously and automate the payment reminder process.
Create free invoices now
Photography invoice example
Uncertain about how to get started making your own professional invoices? Preview a sample photography invoice below.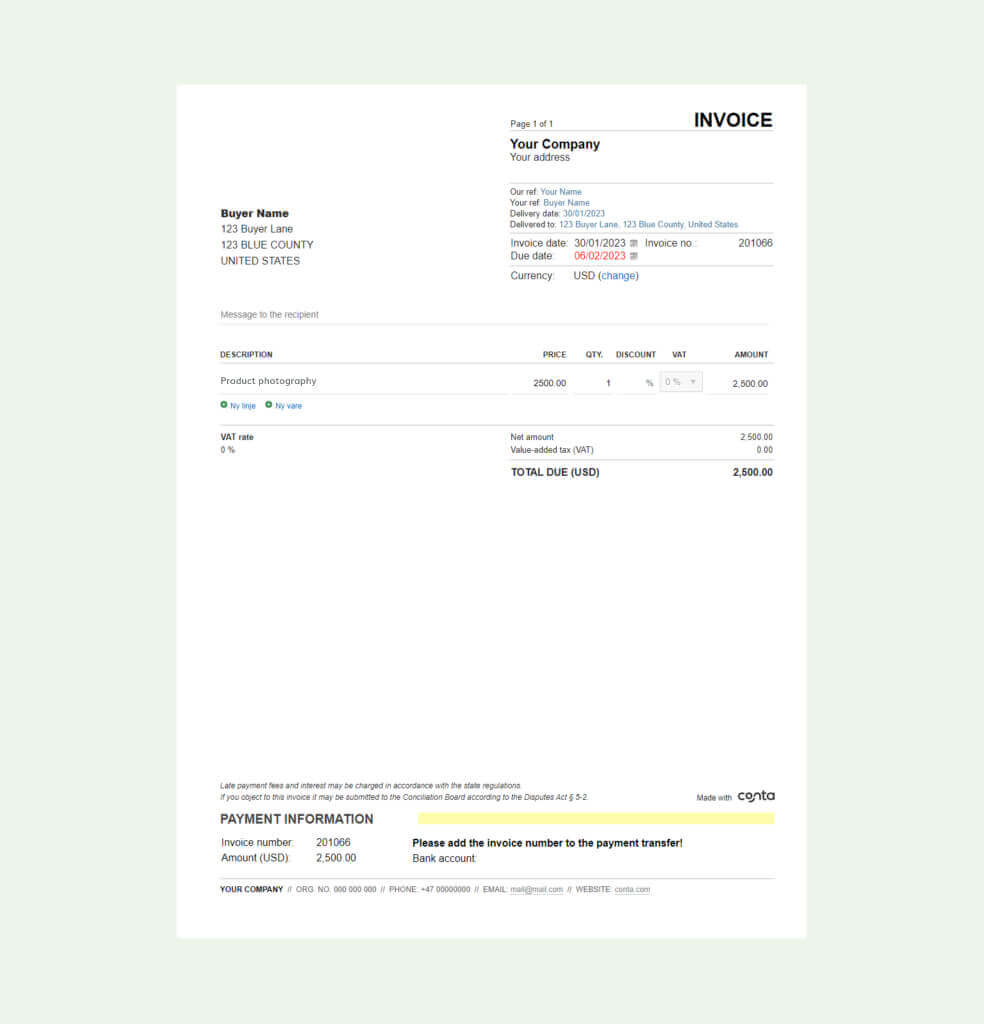 Essential info for photography invoices
No matter what invoicing method you use, some key elements have to be included in a photography invoice.
Here are five things you should include in your invoice:
Your company name, address and contact information
Company name/name, address and contact information of your customer
An unique invoice number
An itemised list of goods and services
Payment terms
Total amount due
Invoicing tips that will help you get paid fast
Make payment terms very clear
Be as detailed and specific about when customers are expected to pay and how they should make the payment. This means including dedicated fields for the due date, payment method and late fee penalties. By making these terms clear from the very beginning, you will avoid confusion that can slow down the payment process.
Offer multiple payment options
Offer multiple payment options. Not everyone prefers to pay by bank transfer. Therefore one can improve the chances of getting paid on time – or even earlier – by offering multiple payment options such as credit card, PayPal or other payment options.
Chase debts and unpaid invoices quickly
Sometimes invoices get lost – especially when dealing with private individuals. It is your job to follow up on late payments! Do not be afraid to send reminders or call customers to ensure they are aware of the payment they owe you.
Here are a few tips for chasing up money you are owed politely and professionally:
Use a friendly tone: Avoid sounding confrontational and reach out to your customers in a friendly and conversational tone.
Be understanding: Show that you understand that invoices can get lost in the shuffle or simply forgotten.
Offer assistance: If the customer is having trouble paying you, be flexible and offer a payment plan or extended due date.
Follow up: If you do not get in touch with the customer, do not be afraid to try again and in the worse case hire a professional debt collector.
Free invoicing software for photographers
Most invoice software for small and medium businesses costs between $ 10 and $ 30 per month. There are, however, some free options!
Conta is a free cloud-based invoicing software used by more than 280.000 businesses and private individuals. In Conta, you can create and send invoices for free. You also get access to smart features such as recurring invoices and automated payment reminders without paying a dime.
As a photographer, dealing with both businesses and private persons, Conta is a good option. With Conta, you can both send invoices via email (which often is preferred by private individuals) and as eInvoice (which is the preferred alternative among many European businesses). One can also download invoices as PDFs and send them via snail mail.
Key reasons to sign up for Conta's free invoicing software:
Create beautiful invoices for free
Customise with your logo and notes
Send via email, eInvoice or download as PDF
Recurring invoices
Automated payment reminders
Free invoicing template for photographers
If you have decided to go forward with creating invoices using templates, despite the advantages of utilising free invoicing software, it is good to know that there are several free invoicing templates online.
We have created a variety of free invoice templates that are available in Microsoft Word, Microsoft Excel, PDF, Google Docs, and Google Sheets formats.
To create an invoice using one of our free templates, you can follow these steps:
Download the template to your computer or mac.
Open the template in Google Docs, Microsoft Word or Excel.
Fill in your business information and the details of the invoice (such as the number of hours you are charging for, price etc.)
Save the invoice with a unique name and print or email the invoice to your customer.
Make sure to customize the template to fit your needs, You can also use the template as a basis to create your invoice template.
Conclusion: Invoicing for photographers
Regardless of whether you have experience with creating invoices or not, billing customers is a relatively easy process.
We recommend that you use free invoicing software because it can help you work efficiently and keep a record of your sales. But, if you are only planning to send one or two a year, templates are fine.
After sending your invoices, it is important to make sure that payments are received on time. If they are not, we recommend that you call your customers for a friendly reminder.